Veni Vidi Vici - VINTAGE TEE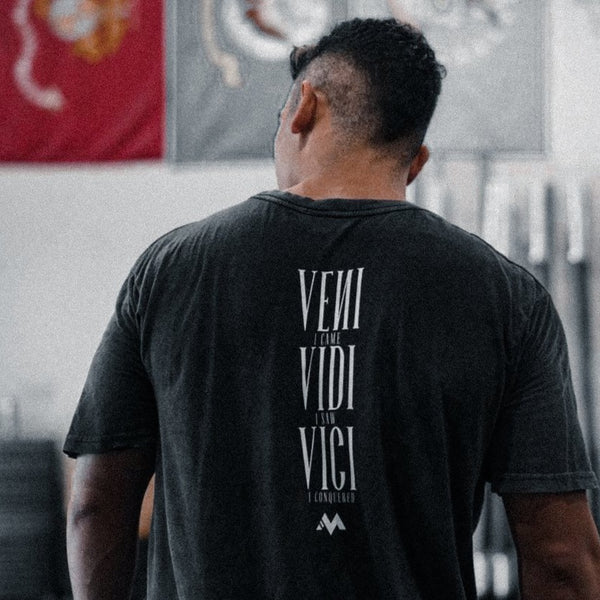 Veni Vidi Vici - VINTAGE TEE
Color: VINTAGE TEE ---
Veni, Vidi, Vici.
a Latin phrase literally translating to, "I came, I saw, I conquered."

Julius Caesar first used the phrase in a letter to the Roman Senate around 47 BC after he had achieved a dominant victory in his war against Pharnaces II of Pontus at the Battle of Zela.
"The obstacle is the way. You must conquer despite the failures , disasters, and hardships placed in our lives."
Soft comfortable 100% cotton for streetwear and athletics.
Each single Vintage tee has a unique color fade.


This is a VINTAGE look & feel. This shirt has been washed 20+ times in our garment dye facility. It will be lighter & thinner to achieve the vintage look/feel.
- Fabric: 100% Cotton.
Please use size guide below :

[ We recommend true to size ]
- Models are: 5'11" 180Lbs. wearing L / 5'11" 200lbs. wearing XL.

We've adjusted our estimates below based on the latest information from our carriers. Shipping calculated at checkout.
Once processed (2-3 days) + shipped, expect delivery within:
USA: 3-5 Business Days
Canada: 4-12 Business Days
Australia: 5-15 Business Days
International: 5-20 Business Days

MENTALITY has a no refund or exchange policy due to the nature of a limited time offering. Please be aware that you cannot cancel, change or refund any items beyond this point once an order has been placed or in transit.